E-commerce
Calculate and offset the emissions of your sales in real time
Rent & Carsharing
Offset the emissions of your fleet by the kilometer
Logistics
Calculate and offset your logistics emissions
Fleet management
For trips you can easily calculate emissions and offset them
Travel provider
Offer your customers emission-free travel, calculated individually
Crypto Broker
Charge & offset electricity-hungry transactions with accurate calculation
Full climate protection
At Klimahelden, we take care of all aspects of the path to carbon neutrality. This includes offsetting as well as reduction, which is always preferable to offsetting. Only where emissions cannot be further reduced in the short term do we recommend offsetting.
Certified compensation
We work with organizations like the UN to guarantee impact.
No fixed costs
There is no monthly base amount, no setup costs or anything like that.
512-bit AES encryption
Strong encryption means your data is in good hands.
Easy implementation
Our interfaces are simple and can be configured within minutes.
State-of-the-art technology: Our API
Our cloud-first systems are designed for maximum stability and accessibility, while still maintaining their integrity and ensuring data protection with the latest technologies. Our API scales with each request, so we can always guarantee low query latencies.
Explore our API solutions
Ready to use in a few steps
Create an account
Your account will be activated for the sandbox mode immediately and without us needing much information from you. Start testing and customizing your integration right away. To fully activate your account, we need some additional information. You can start and pause this process at any time to continue later.
Start your integration
Use our wide range of interfaces to customize your integration to your individual needs. Use our plugins for store systems to get by without any programming knowledge, or use our API interfaces to link us to your software systems.
Ready to go live
As soon as you are satisfied with your integration and you have fully activated your account, nothing stands in the way of the go-live. Of course, you can continue to use the sandbox mode for testing and add more integrations at any time.
Go to your dashboard
Individual certificates
For each offset we issue an individual certificate, which can be branded. You can also host the certificates on your own domain. Optionally, you can also request all details of the certificate via API and create your own certificate page.
View sample certificate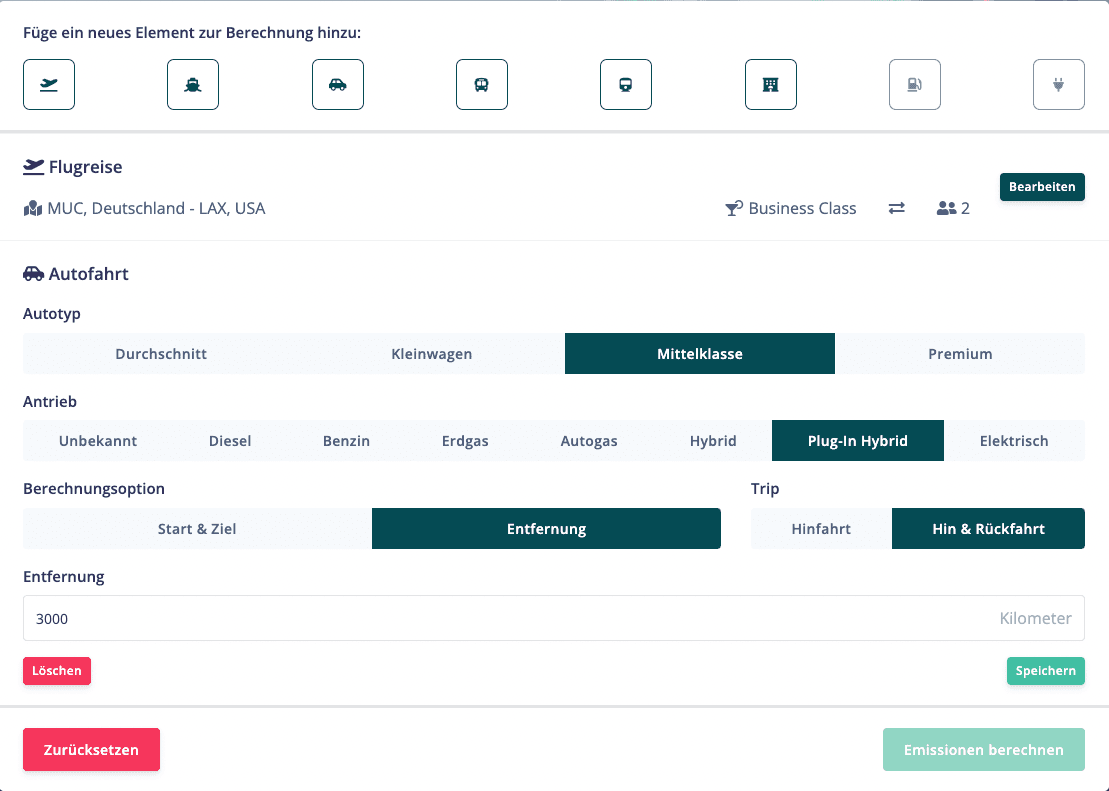 Extension: CO2 Calculator
Use our handy emissions calculation tool to perform accurate calculations without programming skills. Then either use the payment method stored in your account or enter a new payment method to purchase the offset directly and receive a certificate.
Learn more about the CO2 Calculator
How does CO2 compensation work?
Sustainable and verified projects in developing and emerging countries are compensated for avoided or reduced CO2 emissions. The compensation is made through the sale of certificates for CO2 compensation. By purchasing and retiring the verified certificates, you offset your own emissions that could not have been avoided in the past and thus make a contribution to global climate protection.
Individual branding
Customize public pages, like the certificate pages, with your logo and host them on your own domain. Send individually designed e-mails and compensate the calculated emissions with your customers under your brand.
Experience the possibilities in action
Full control at any time
Use our portal to manage all compensations, create API keys and webhooks and check invoices. Invite other team members to share access to the dashboard, or use our logs and monitoring to track every request to our API and troubleshoot. Activate our extensions to add more features to your functionality and make our portal even more customizable.
Get direct access to the dashboard
Certificate and validation
For each offset of CO2 emissions we provide an individual certificate with transparent information about the offset.
Code & No-Code
Use our plugins for the most popular store systems to not have to write a line of code, or use the API to be fully flexible.
Full Reporting
You have all facts and figures at your fingertips. Our detailed dashboard provides you with all the latest information on all your integrations at any time.
Create transparency
It has never been more important not to lose sight of the climate in all of life's concerns. It is becoming increasingly important for end users to also consider the environmental aspect when making purchasing decisions. We offer an all-round solution for calculating, communicating and offsetting the CO2 emissions of products and services.