The backbone for your path to a more sustainable future
Calculate and offset CO2 emissions exactly when they occur. We offer a ready-to-use 360-degree API-first solution to make your business more sustainable.
The platform for event-based emission calculation and compensation
Integrate climate action into your daily operations with our products:
A platform that grows with you
We make calculating and compensating easier for you than ever before. So you can fully concentrate on your core business.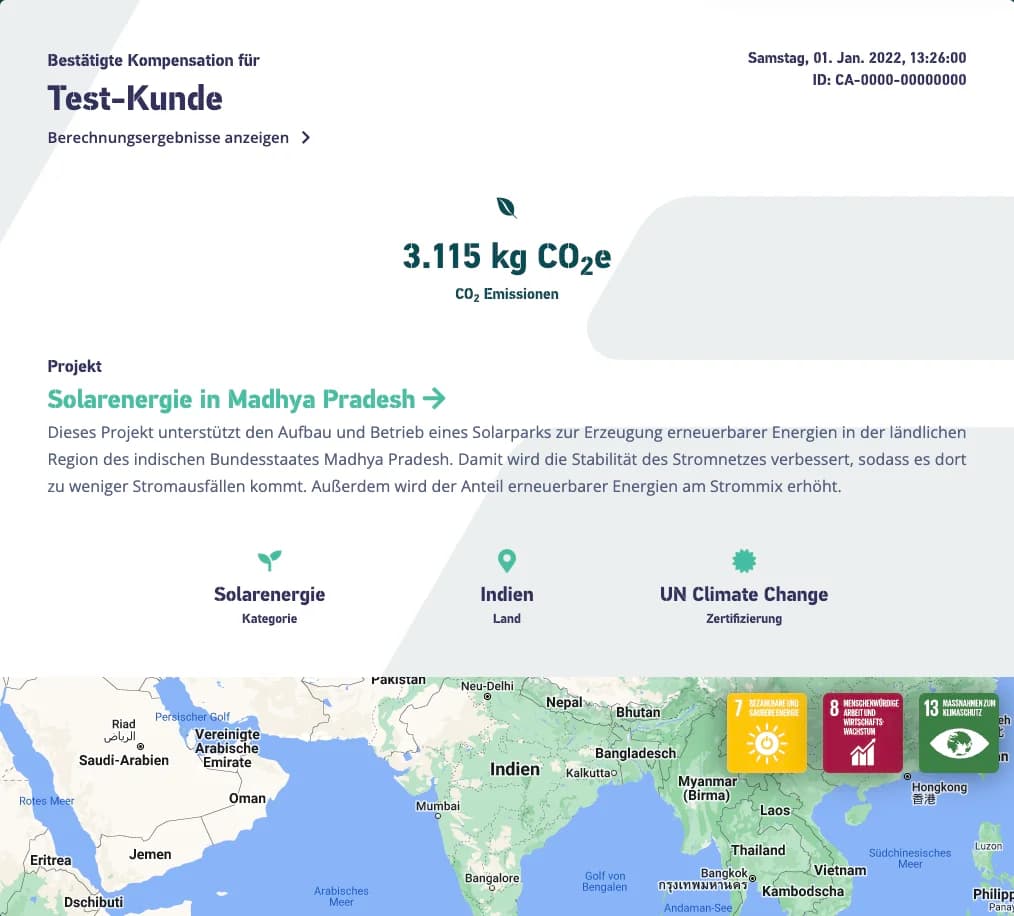 Let everyone be part of the solution
For each offset we issue an individual certificate, which can be branded. You can also host the certificates on your own domain. Optionally, you can also request all details of the certificate via API and create your own certificate page.
View sample certificate
Industry-leading number of automated calculation functions
Full transparency
Worldwide compensation projects
Our broad portfolio features projects from around the world.
We hand-select our carbon offset projects to ensure the highest possible impact.
Upgrade your offset by planting a tree (or a thousand) for your carbon credits. Coming soon
Specify a region or continent and automatically buy projects near you (or your customers). Coming soon
Learn more about our portfolio
Create transparency
It has never been more important not to lose sight of the climate in all of life's concerns. It is becoming increasingly important for end users to also consider the environmental aspect when making purchasing decisions. We offer an all-round solution for calculating, communicating and offsetting the CO2 emissions of products and services.
Resources to get started:
No credit card required - Create an account now
Create an account and start directly with the calculation and compensation of CO2 emissions via our API. You still have questions or need an individual offer? Use the chat or make an appointment with our sales team.